Make a Cake: 43 Fun Poke Cake Recipes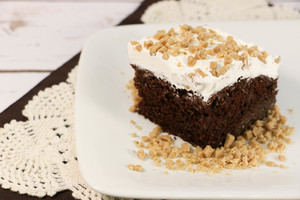 Jello poke cakes are fun desserts that look fancy but are extremely easy to make. Make a Cake: 43 Fun Poke Cake Recipes includes a variety of jello poke cake recipes that make excellent desserts for any occasion. A majority of them are made with a cake mix (I told you they were easy). Once the cake is finished baking, poke holes in the entire cake using the back end of a wooden spoon. Then pour the jello or pudding mixture over the cake so it seeps into each hole. When you're finished, you'll have a piece of cake and filling in each bite.

If you are a chocoholic, then get excited for our poke cake recipes with chocolate. We have a Boston Cream Pie recreation as well as a chocolate and peanut butter combo. If you prefer fruity desserts, then you'll have a ball with our fruity poke cake recipes. The Coconut Lime Poke Cake in particular will make you feel as if you're really on a tropical island. If you're in need of a dessert for a holiday party, we've got you covered for Halloween, Christmas, and Valentine's Day, and Fourth of July. And last, but not least, we have four different poke cake recipes with pumpkin.

Whether jello poke cake recipes remind you of your childhood or you're just discovering them now, you'll enjoy perusing this list of recipes and enjoy eating them even more.
Make a Cake: 43 Fun Poke Cake Recipes
Table of Contents
---
For more dessert casserole recipes, check out our collection of

30 Cake Mix Recipes.
---
---
---
Your Recently Viewed Recipes