Cabbage Rolls 'Sarmale' Stuffed with Ground Beef Veggies and Rice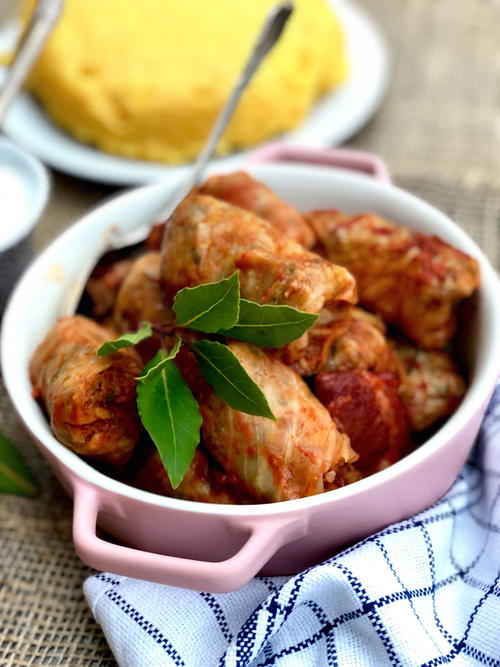 Cabbage Rolls Sarmale Stuffed with Ground Beef Veggies and Rice
"Sarmale is a dish that I ate and enjoyed almost all my life since I was a tiny kid especially around festive holiday times when everyone was making them and the whole town was smelling yummy of these delicious cabbage rolls, especially at Easter and Christmas time. They are such a Romanian traditional dish that Prince Charles now greatly enjoys along with the traditional chicken soup apparently one of his top faves every time he's over there. A meal in itself these cabbage rolls or sarmale - filled with mince meat of your choice, vegetables and rice go so well served with a dollop of creme fraiche and polenta or cornmeal. Absolutely delicious! Enjoy!"
NotesThe cabbage has to be a savoy or the Turkish (flatter looking) ones and not the supermarket dense and heavy super round one - it is important to choose the right type if you want to have a nice looking and to successfully manage to roll those and not having to pin them with toothpicks or wooden skewers. I'm mentioning this as I have seen this done a few times in my life ?. Totally unnecessary if you choose the right cabbage.

Serves8
Ingredients
1 savoy cabbage head fresh or soured*
300 g minced lean beef
300 g minced pork
200 g smoked bacon diced
5-6 smoked pork ribs
1 courgette
1/2 small leek
1 carrot medium
2 onions medium
1 tsp thyme
Instruction
I used sour cabbage just like I did, do the same, core it (if it still has the core) and place it in a big pot/dish in lukewarm water (3-4 l) ideally for at least 1 hour ahead since this is very salty so it needs some time to desalt. Don't worry if you cannot leave it for so long - leave it the longest you can. Just open it nicely so that all leaves are individually loose in the water. See recipe notes about the cabbage types*

I always prepare the vegetable and rice mixture immediately after resoving the cabbage as this needs some time to cool. So, peel and wash the carrot and just wash the courgette and then grate both on the bigger whole grater.

Finely chop the onions and the leek. Place them in a pan over medium heat, add some salt and soften with a dash of water or oil if you wish. I don't use any oil since the meat has all that's needed and plenty more to add to the dish overall but feel free to use if you wish. ? Cook for 3 minutes covered until onions become translucent.

Add the rice, cook for 1 min and then immediately add the grated courgette and the carrot, half of the thyme and two bay leaves that you can break into two.Try not breaking them into smaller pieces as they will need to be picked/fished out at the end of the cooking, before mixing with the meat. Cook for a further 3 mins.

Add 1 can of chopped tomato or tomato juice (even a cream of tomato soup if you'd like) and allow this to start boiling. Turn the heat off and set aside for a little while till slightly cool.

Cut each leaf in two by the thick vein found in the middle of each leaf, cut out the remaining thick vein. Easier to handle.

In a large bowl add the mince meats, the smoked bacon, very little salt, pepper, chopped parsley, dill and the rice n' vegetable mixture once this has cooled. Mix well until it becomes homogeneous.

Let's get rolling these beauties. Place about 1 1/2 tbsp of meat mixture on a taylored cabbage leaf. Fold in the sides and roll. Tuck in the side ends. Repeat until you finished the mixture.

Place all rolled up cabbage rolls into the pot or dish you desire to cook them in. I use this Insta pot. Place some herbs like thyme, lovage and couple of broken bay leaves in between along with the smoked pork or beef ribs.

Set up the pot manually for 30-40 min and set the pressure knob on closed so that the pressure will be contained rather than released. They're ready when the pressure cooker says it's finished. I occasionally cook them further with taking the lid off and set to cook for a further 15 -20 min just to reduce the juice if too much or too watery. This operation has to be done super carefully and you should only attempt to open the lid once the pressure inside the cooker has gone so needs to be left for a while or the pressure released manually by opening the top knob until no more steam comes out so all that whistling ended.

Serve with a dollop of creme fraiche or double cream. I personally like the sour cream or the creme fraiche (smantana) as I feel that goes very well with it rather than the sweet double or single cream.
Your Recently Viewed Recipes