Chunky Roasted Cauliflower with Capers and Raisins Dressing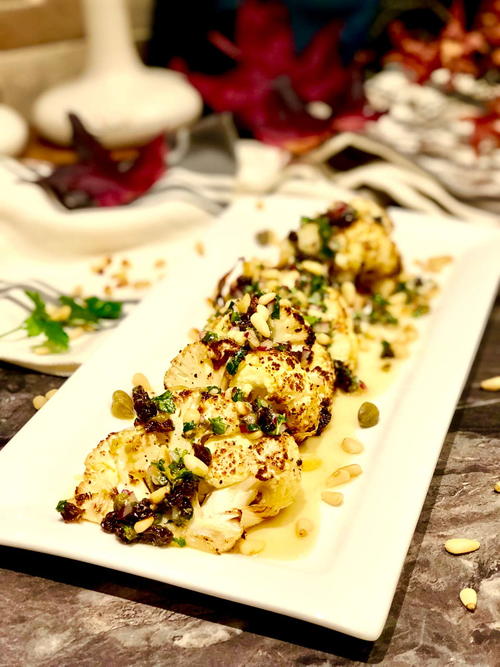 Chunky Roasted Cauliflower with Capers and Raisins Dressing
"I know this chunky roasted cauliflower sounds like an interesting recipe, especially the dressing. You will soon find out and see exactly what I mean. It is a great way of incorporating capers into a dish. This chunky roasted cauliflower contains a vinaigrette made from super healthy ingredients like honey, capers, cider vinegar and raisins. A perfect combination to make this cauliflower side dish a delicious one. Lets get this cauliflower ready as I know you can no longer wait for it, if you didnt jumped to recipe already!"
NotesSome tips here would be to use :

agave or maple syrup instead of honey;

cider vinegar instead of sherry vinegar;

cranberries to replace the raisins;

I have also used dried cherries in the past and they are absolutely gorgeous, you might just have to chop them slightly as they are generally bigger than the raisins or the cranberries; pine nuts can also be replaced with walnuts, cashews or pistachios- all toasted and roughly chopped;

leave the pine nuts out completely of any nut allergies.

the avocado oil can, of course, be replaced with olive oil or any other oil you have including coconut oil. Other serving suggestions&

We have had this with fish as a side dish and some couscous;

can be served over quinoa and makes an absolutely wonderful vegan yummy meal;

Use this as a side dish for the Christmas dinner it goes fabulously with turkey or any other meat;

We have even had this mixed with orzo pasta, it was wonderful!

If you dont like capers you could leave them out but I suggest you use any pickled stuff such as beetroots or any dill pickled cucumbers.

It is a fabulous side dish but could make a dish on its own any time in the day or in the year.
Serves4 People
Ingredients
1 cauliflower head
4-6 tbsp avocado oil
1/2 tsp salt pink Himalayan
1-2 pinches Freshly ground black pepper
1 tbsp honey
2 tbsp capers rinse, drain and chopped
70 g raisins roughly chopped
50 g toasted pine nuts
1 tbsp sherry vinegar
5 to 6 springs fresh parsley finely chopped
Pre-heat the oven at 250°C/forward 500°F or to the max temperature your oven allows.

Place or position the oven rack in the middle of your oven.

Wash the cauliflower, cut it into eight wedges and place into a bowl. Toss it with half of the oil, half the chopped red onion and seasoned with salt and pepper.

Transfer the cauliflower to a parchment lined baking tray and roast for about 20 minutes over all flipping it halfway through the roasting with a spatula.

Meanwhile, while the cauliflower bakes, into a jar, combine the leftover oil with the vinegar, the honey, the capers, pinenuts, the chopped raisins and the onion, parsley and a pinch of black pepper. Put the lead on the jar and give it the shake of its life! Shake it, shake it, shimmer, shimmer. Set aside for a few min till ready to use.

When the cauliflower is finished with the baking, transfer it to the serving plate(s) and spoons the dressing all over it. Serve it pretty much straight away, nice and hot. Cold is as nice though.
Your Recently Viewed Recipes