Creamy Roasted Apple and Pumpkin Soup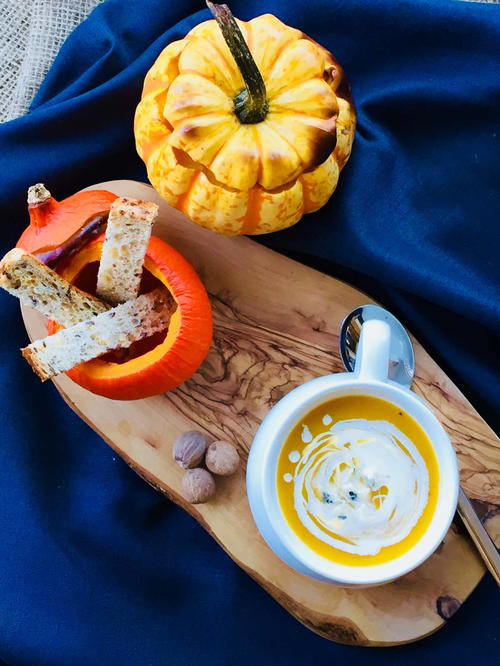 Creamy Roasted Apple and Pumpkin Soup
"Autumn ? is such a lovely season and all those seasonal dishes that could be prepared this time of the year are so full of flavour and still pretty colourful too and this creamy pumpkin soup is one of those. It is not quite the same as yu will realise in a moment and I can't help myself but sharing this absolutely delicious roasted apples and pumpkin soup, an ideal dish for this time of the year, truly autumnal and packed with nutrients and pure goodness."
NotesFor the best results taste wise so that all flavours are enhanced, the vegetables as well as the apples must be roas. . The sweetness, nutiness and the creaminess of the soup will be guaranteed. It will have a completely different aroma than just boiling them

Serves4
Ingredients
1000 g pumpkin skin on or removed
900 ml vegetable stock
2 carrots
2 small onions
1 med leek
2 medium apples
3-4 sage leaves
2 cloves garlic
1 pinch nutmeg freshly grated
1/4 tsp Cinnamon
Instruction
Start by preheating the oven to 190°C.

Wash and roughly chop the pumpkin and the apples, wash, peel and roughly chop the garlic, leek, carrot and the onion. Place all these in a roasting tray.

Heat some olive oil in a small frying pan and add the sage leaves. Crisp them up - this should take no longer than 40 seconds. Turn heat off. Remove the leaves and drizzle the sage infused oil over the vegetables in the tray.

Season well the vegetables with salt and pepper, give them a toss and roast in preheated oven at 200°C for about 40-45 mins until nice and browned on parts.

Remove from the oven when ready and set aside for a few minutes.

Transfer the pumpkin, apple and all the roast vegetables into a pot or pressure cooker and add the roast vegetables, the stock and the thyme spring as it is (needs removing later).

Bring to boil and allow to boil uncovered for about 30 minutes. Turn heat down, remove the thyme spring, add the Stilton cheese, grate some nutmeg and add the pinch of cinnamon. Turn off the heat and blend using a hand blender.

Dress with a dollop of creme fraiche and serve.
Your Recently Viewed Recipes