12 Recipes Using Leftover Halloween Candy
Don't let that Halloween candy go to waste! Make it into something new and delicious.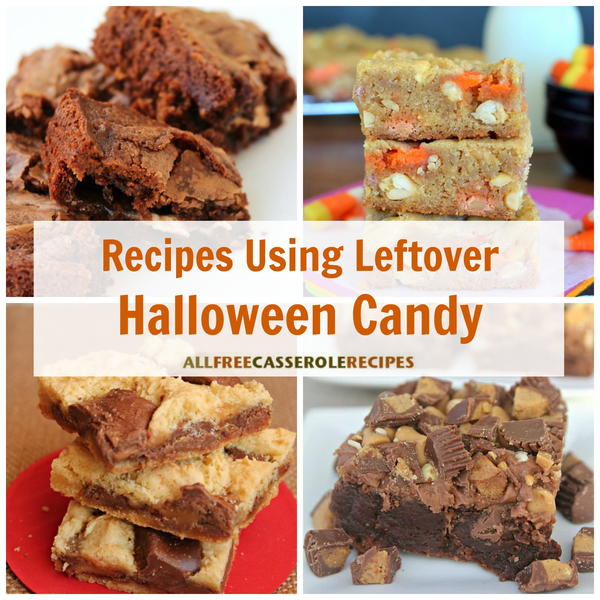 Don't know how to use that leftover Halloween candy? Why not make some sweet recipes that will use it up? This collection, 12 Recipes Using Leftover Halloween Candy, will give you great baking ideas. Make Halloween candy cookies or cookie bars, bake with Halloween candy, and try out recipes for leftover candy bars. The possibilities are endless! We have got eight tasty ideas to get you started.

Don't miss our section of candy corn recipes! You'll find 4 additional recipes that you can make with your leftover Halloween candy. They are all dessert bar recipes, so they're super easy to make. They feature your favorite Halloween treat - candy corn. While everyone loves candy corn, it can be hard to get rid of! What better way to use it up than in a dessert bar?
Recipes Using Peanut Halloween Candy
More Recipes Using Leftover Halloween Candy
Rolo Cake Mix Bars - Leftover Halloween candy cookie bars don't get much better than this. These gooey, chocolatey bars only require four ingredients - and a love for chocolate.

York Peppermint Patty Brownies - While this recipe is great if you're trying to use up Halloween chocolate candy, it doubles as a fantastic Christmas recipe. These minty, chocolatey brownies are smooth and sweet.

Heath Bar Hot Fudge Poke Cake - If you end up with a bag of Heath bars, use them as a topping for this delicious poke cake. This decadent cake is impressive enough to take to a potluck, but it's so simple to make.
Candy Corn Recipes
Candy corn is an iconic Halloween food. If you find that you receive candy corn in bulk this year and don't want to waste it, make these delicious candy corn recipes. The candy corn adds a sweet twist to any dessert. Its unique rich and creamy taste is right at home among virtually any flavor combinations. You're in for a treat with these bonus recipes.
Your Recently Viewed Recipes