Chocolate Chip Christmas Crack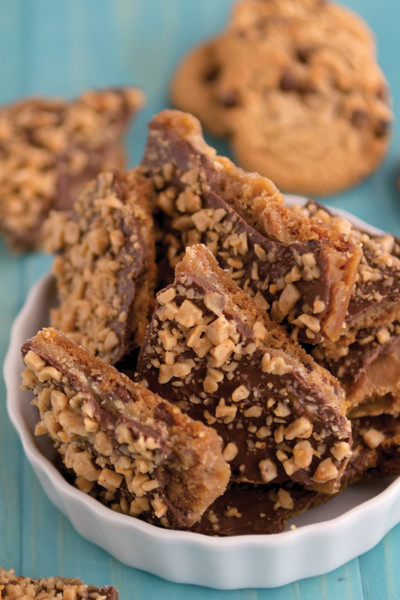 Chocolate Chip Christmas Crack
If you want to make an addictive Christmas dessert, try this Chocolate Chip Christmas Crack recipe. This sweet treat is made with chocolate chip cookies, milk chocolate chips, and toffee bits for a unique dessert bar that everyone will love. This is so much better than other Christmas crack recipes that use crackers! What's great about this recipe is that it's simple to customize to your preferences. You don't have to be limited to just chocolate chip cookies. The options are endless when you can substitute your favorite cookie! This Christmas dessert would be the star of the show at any holiday party, but it also doubles as a budget-friendly edible gift. Once you try this recipe, it will become a tradition to make it every year.
Notes



If you like this recipe, you'll love the "Dessert Mash-Ups" cookbook!
Ingredients
30 crunchy chocolate chip cookies (such as Chips Ahoy)
1 cup (2 sticks) unsalted butter
1 cup packed brown sugar
1 tablespoon water
1 teaspoon vanilla extract
1 (11.5-ounce) bag semisweet or milk chocolate chips
1 cup toffee bits
Instructions
Preheat the oven to 350 degrees F. Line a 10 x 15 inch jelly roll pan or rimmed cookie sheet with foil and spray well with cooking spray. Arrange the cookies in a single layer in the pan, breaking a few to fill in the edges and gaps as much as possible.

Melt the butter in a saucepan over medium heat. Reduce the heat to medium-low and add the brown sugar and water. Bring to a boil, stirring occasionally. Once it boils, place the candy thermometer in the pan and do not stir. Let the mixture cook until it reaches 255 degrees F on a candy thermometer, about 5 to 7 minutes. Remove from the heat and stir in the vanilla. Immediately pour over the cookies and spread carefully to cover all the cookies. Bake for 5 minutes.

Remove the pan from the oven and sprinkle with the chocolate chips. Bake an additional 2 minutes. Remove the pan from the oven and, using an offset spatula, carefully spread the chocolate chips evenly over the toffee (they will have melted in the oven but still held their shape). Sprinkle the toffee chips over the chocolate. Let cool to room temperature, then refrigerate to set. Break into pieces and serve. Store at room temperature for up to 1 week.
Your Recently Viewed Recipes