Shortcut Chicken and Biscuits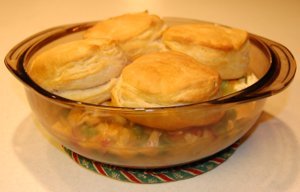 Shortcut Chicken and Biscuits
A home-cooked meal is needed every so often if not daily. Here's one home-cooked meal that's all about comfort food and can be made with ease. Shortcut Chicken and Biscuits consists of a yummy chicken casserole and a biscuit topping. Don't worry about the biscuits; the recipe calls for the refrigerated kind. Think of the time you'll save! There's nothing not to love about this shortcut version of an old-fashioned recipe.
Notes

You may not be able to fit all of the biscuits onto the casserole, depending on what size casserole dish you use.
Serves4
Ingredients
2 cups cooked shredded chicken

1

/

2

cup peas

3

/

4

cup carrots, chopped

1

/

2

cup broccoli, chopped

1

/

4

yellow onion, chopped
1 (10.5-ounce) can condensed cream of chicken soup

1

/

4

cup water

1

/

2

teaspoon salt
1 teaspoon black pepper
1 tube refrigerated biscuits

1

/

2

cup Cheddar cheese, shredded
Instructions
Preheat the oven to 400 degrees F.

Combine chicken, vegetables, cream of chicken soup, water, salt, and pepper in a large bowl. Stir until well combined.

Transfer the mixture to a casserole dish. Cover with foil and bake for 30 minutes.

With 15 minutes left, place biscuits on a greased baking sheet and bake for the remaining 15 minutes.

After the thirty minutes, sprinkle cheese on top of casserole and place biscuits on top.
Your Recently Viewed Recipes