"15 Easy Potluck Recipes for a Church Supper" Free eCookbook
By: Emily Racette, Editor, AllFreeCasseroleRecipes.com
15 Easy Potluck Recipes for a Church Supper
When it comes to potlucks, casseroles are your best friends. Casseroles are conveniently portable and typically easy to put together. They come as main dishes, side dishes, and even desserts. We've put all three types into this free eCookbook, 15 Easy Potluck Recipes for a Church Supper. The next time you have a gathering at your friend's house, with family members, or at church, you'll know where to turn first.

When you open your eCookbook for the first time, you'll be whisked away by main dish potluck recipe ideas. We've included everything from the favorite ritzy chicken casserole to the innovative ham and cheese sandwich casserole. These casseroles can feed a crowd, which is just what you need in a potluck recipe. After you've gone through the main dishes, you'll be surrounded by side dish casseroles. Choose from a Southern Baked Corn Casserole (p. 13) or an intriguing Hot Pineapple Casserole (p. 16) - and that's just the beginning! We have even more great side dishes waiting for you. After you've had your fill of savory casseroles, it's time to turn to the dessert casseroles. Every potluck needs a dessert, and these desserts are a real treat!

Table of Contents:
Main Dish Potluck Recipe Ideas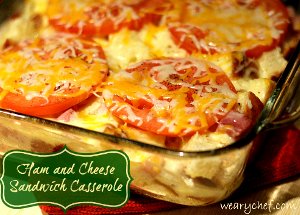 When you attend a potluck, it's essential to bring a dish to pass. If you want to share a main dish with everyone, then read Chapter 1 of the 15 Easy Potluck Recipes for a Church Supper free eCookbook. It's filled with tons of main dish casseroles - and none are like the other.
Bubbling Pizza Casserole (p. 7) - Besides being a cheesy pizza dish, which is awesome in and of itself, the crust is made from Herbed Parmesan Drop Biscuits. The biscuits serve as a crust and will expand during baking. This is definitely a pizza like no other.

French Onion Casserole (p. 11) - This is a classic on AllFreeCasseroleRecipes. We love turning classic meals into casseroles, which is exactly what's going on in this recipe. You just have to see it.

Ham and Cheese Sandwich (p. 10, pictured) - It's an exciting twist on the regular ham and cheese sandwich. This casserole contains the same ingredients you love in a ham and cheese sandwich and combines them with a little bit of milk to hold them all together. Because everything is combined into a casserole, it is much easier to serve to a crowd.

Ham and Cheese Biscuit Pull-Apart Bread (p. 12) - Just pull off a piece of bread and add it to your plate, which is probably full of other fun, potluck dishes.
---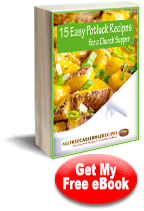 Download your free copy of 15 Easy Potluck Recipes for a Church Supper today!
---
Side Dish Recipes for a Potluck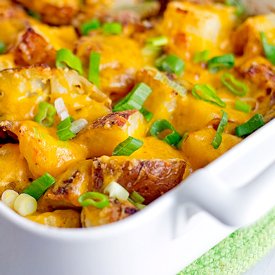 The most common type of potluck recipe is a side dish. Side dishes come in all shapes and sizes, so it seems we can never have enough at one event. We have five versatile side dish casseroles in this free eCookbook, 15 Easy Potluck Recipes for a Church Supper.
Southern Baked Corn Casserole (p. 13) - Practically everybody loves corn; even picky children. Therefore, you can't go wrong bringing a corn casserole to your next potluck. This one incorporates Ritz crackers and bell peppers.

Loaded Bacon Ranch Potatoes (p. 15, pictured) - It's not a potluck without a potato casserole, right? Well, this dish is basically the ultimate potato casserole. You don't want to miss this one.

Hot Pineapple Casserole (p. 16) - If you've never had a pineapple casserole before, you're in for a treat. Pineapple, Cheddar cheese, and Ritz crackers may not be the most obvious combination, but when they're put into the same dish, the result is magical.

Triple Corn Casserole (p. 17) - Made with whole kernel corn, cream-style corn, and corn muffin mix, this side dish could not be any cornier. And we love it!
---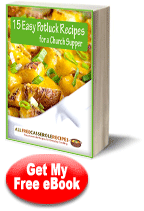 Download your free copy of 15 Easy Potluck Recipes for a Church Supper today!
---
Easy Potluck Recipes for Dessert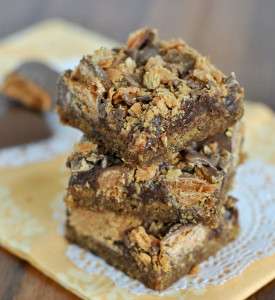 We close out this eCookbook with a chapter dedicated to desserts. After all, every potluck has to have at least one delicious treat. Lucky for you, we have three decadent dessert casseroles to choose from. Whether you want a little chocolate, a little more chocolate, or the mother-load of chocolate in your dessert, these easy potluck desserts have something for everyone.
Turtle Bars (p. 18). The combination of caramel, pecans, and chocolate chips is enough to make anyone's mouth water just thinking about it.

Butterfinger Fudge Cookie Bars (p. 19, pictured). Fans of the Butterfingers candy will love these bars. If you've dreamed about eating a cookie, brownie, and candy bar at the same time, your day has come.

Death by Chocolate Poke Cake (p. 20) is a decadent dessert that will give any other chocolate dessert a run for its money. Five types of chocolate are used to create this chocolate wonder. Despite its luxurious look, it's not difficult to make. You can whip up this chocolate cake without adding any stress.
---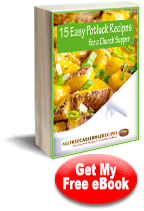 Download your free copy of 15 Easy Potluck Recipes for a Church Supper today!
---
Need Help Downloading?
AllFreeCasseroleRecipes eCookbooks are free downloadable recipe collections organized around a theme, such as easy casserole recipes, vegetable side dishes, and many more. These eCookbooks are PDF documents that can be downloaded off of our website, saved to your computer, and/or printed out for easy reference while cooking. If you are having trouble downloading our free eCookbooks, visit our FAQ Page: How to Download our eCookbooks.
Don't Miss our Other eCookbooks!
If you enjoyed this free eCookbook, you won't want to miss any of our other downloadable recipe collections. You can browse our entire library of free eCookbooks here.
Sign Up For Our Newsletter
With your free copy of our 15 Easy Potluck Recipes for a Church Supper eCookbook you can also subscribe to our newsletter The Casserole Connection to become part of the wonderful casserole community. In subscribing to the newsletter you will receive:

Weekly emails with casserole recipes, tips, collection pages and more.
Chances to win cooking books and products from our weekly giveaways and contests.
New FREE recipes made available to you throughout the year.
Access to our free recipe library full of hundreds more free recipes.
The opportunity to share ideas and help others in the cooking community.
This sneak peek of what this new eCookbook has in store for you hopefully has convinced you to download it free today. If any or all of these recipes appeal to you, click on one of the eCookbook icons anywhere on this page to download your free copy of 15 Easy Potluck Recipes for a Church Supper. You won't regret downloading this free eCookbook and printing its delicious recipes! Once you get your copy, you can either keep it on your computer or eReader, or print it out and keep it in your kitchen. No matter how you use your eCookbook, once you've tried even one of the recipes, you'll be glad you downloaded it.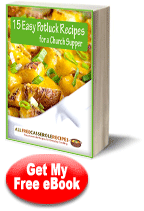 Download your free copy of 15 Easy Potluck Recipes for a Church Supper today!
Tags / Related Topics
Your Recently Viewed Recipes
Images from other cooks

Love these recipes? Get MORE delivered to your Inbox – FREE Click Here!