Funeral Sandwich Casserole
These funeral sandwiches are a great way to feed a crowd - no matter the occasion!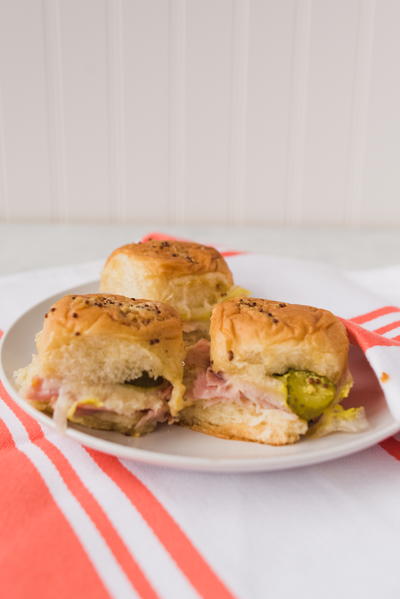 Funeral Sandwich Casserole
This Funeral Sandwich Casserole is like the traditional ham and cheese funeral sandwich recipe, but easier. Instead of making ham and cheese sandwiches individually, you can layer King's Hawaiian rolls in a baking dish, along with ham, turkey, Swiss cheese, pickles, and a creamy mustard spread.

These only take 10 minutes to prepare! Then, bake for 25 minutes and you've got a lunch, dinner, snack, or appetizer that anyone will love. Ham and cheese is a match that's practically made for sandwiches and now, sandwiches are made for a casserole.

While these sandwiches have "funeral" in the name, you don't have to wait for a somber occasion to try out this recipe! These delicious sandwiches are perfect for sharing at potluck dinners, summer picnics, at game day gatherings, and much more. The next time you're looking for a shareable sandwich recipe, turn to this easy recipe.
Serves12
Cooking Vessel Size9 x 13-inch baking dish

Ingredients
2 (12-count) packages of Hawaiian rolls
1 package sliced ham
1 package sliced turkey
1 package sliced Swiss cheese (6 slices), each cut into 4 sqaures to fit the roll
dill pickle slices
1 stick unsalted butter, melted
1 tablespoon Dijon mustard
1 tablespoon whole grain mustard
Instructions
Heat oven to 325 degrees F. Lightly grease a 9 x 13-inch baking dish.

Cut the rolls in half. Line the bottoms of the rolls in the baking dish, six across and four down.

Layer the ham, turkey, cheese and pickles on each roll. Place the top of the rolls on top.

Mix the melted butter, Dijon and grainy mustard together. Pour evenly over the top of the rolls.

Cover with foil and bake for 15 minutes. Take off the foil and bake for another 10 minutes until the tops of the rolls are golden.

Cut the sliders and place on a serving platter.
What Are Funeral Sandwiches?
Simply put, funeral sandwiches get their name because they are frequently served at funerals or memorial services. Providing the grieving family with comfort food is a great way to offer your condolences. In fact, the Southern tradition of giving food gifts to the family of the deceased dates as far back as 1779. Funeral sandwiches are easy to make, so they can be quickly prepared and given to the family along with simple baking instructions. The common connection among funeral foods is that the recipes are comforting, simple, and versatile, so this sandwich casserole fits right in.

In addition to somber occasions, funeral recipes like this one are also great for potlucks or whenever you need to feed a large group of people. To prepare these sandwiches, arrange buns in a baking dish with cheese and meat. Then pour a flavorful glaze over the sandwiches and allow them to marinate. When the sandwiches are ready to be made, simply bake them and enjoy a comforting meal.
BONUS Funeral Casserole Recipe
Pair these delicious little sandwiches with an equally delicious Cheesy Ham and Egg Casserole. A perfect pair at funerals or potlucks.

Watch the video for step-by-step instructions!
Your Recently Viewed Recipes