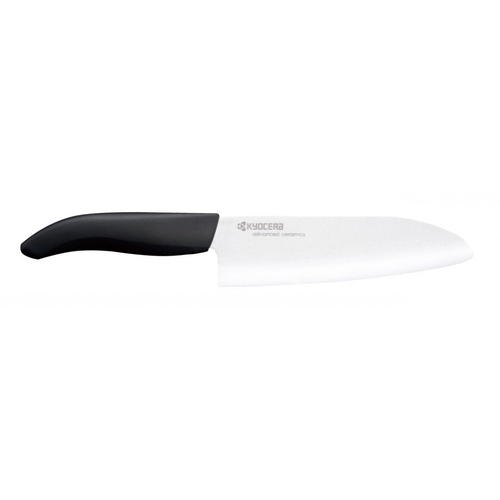 Kyocera Santoku Knife
kyoceraadvancedceramics.com
Reviewed by , Editor, AllFreeCasseroleRecipes.com

The Kyocera Santoku Knife is a ceramic knife designed to make chopping easier and more efficient. The ceramic material makes the knife extremely lightweight and easy to maneuver. The ultra-sharp blade can slice, dice, and chop fruits, vegetables, and more!

 

The way a knife feels in your hand is one of the most important aspects in determining if a knife is right for you. I love the way this Santoku Knife grips. The handle is designed to be ergonomic, keeping your hand comfortable as you prep ingredients.

 

The ceramic blade of the knife makes it stand out amongst other santoku knives. The ceramic used to make the blade is incredibly sharp, yet extremely lightweight. This blade is only 5.5" long, making it easier to control. It is wider than other chef knives making it easier to scoop ingredients after chopping.  In addition to these great qualities, the ceramic material keeps food from browning, unlike knives made using metals. 

 

The design and material of this knife makes it ideal for chopping various kinds of ingredients. I like using it to cut just about all of my fruits and vegetables. I think it also works wonderfully for trimming meat or cutting up a chicken breast.  It is not recommended for breaking down meat or cutting super tough ingredients, but it serves as the perfect complement to a stainless steel knife and I highly recommend every kitchen invest in a high quality ceramic knife like this one!
Your Recently Viewed Recipes