Emile Henry Lasagna Baking Dish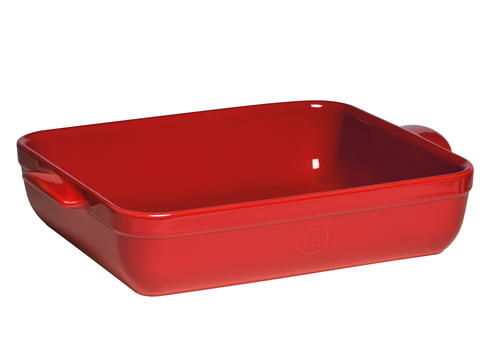 Emile Henry Lasagna Baking Dish
www.emilehenryusa.com
Reviewed by , Editor, AllFreeCasseroleRecipes.com

Make the perfect lasagna with this gorgeous Emile Henry Lasagna Baking Dish. The rectangular dish is made from the famous, Emile Henry ceramic and is extremely durable. It comes in five of their bold colors to match your style.



I love the unique design of this dish because it is perfect for lasagna. A regular 9"x13" pan isn't quite deep enough, but this one is! This 13.75"x10" dish has a depth of 2.75" which is almost an inch deeper than the typical casserole pan. This allows you to get all of your lasagna layers in the pan.



The handles on this pan are curved and easy to grip. The flair matches the soft curve of the pan's rim. This thoughtful design makes it a great dish to serve at the table. The "look" is completed with the signature Emile Henry emblem. This adds an even higher degree of sophistication.



The best part about using this baking dish is the superior materials used in the construction. The ceramic is made from Burgundy clay which is known for being a great heat conductor. Not only does it ensure your recipe cooks properly, it is also extremely durable. It can be used in ovens up to 500 degrees F and you can even put it in your microwave!
Your Recently Viewed Recipes