5 Ingredient Casseroles: 23 Easy Casserole Recipes to Try
Simplify your life with these easy 5 ingredient casserole recipes for breakfast, dinner, and dessert!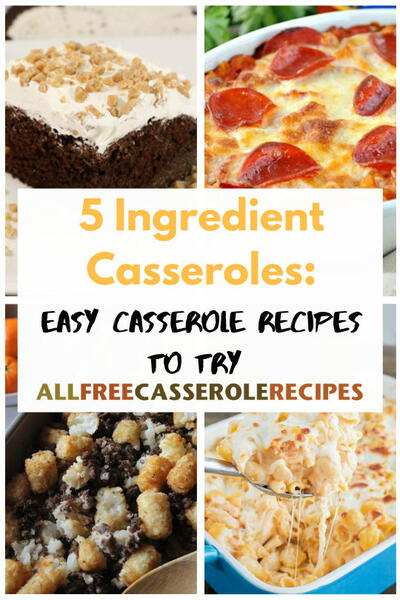 After a busy day, making dinner is one of the last things on your mind. However, dinner will be no problem at all because with just 5 ingredients you can easily whip up one of these easy casserole recipes. We have assembled this collection of 5 Ingredient Casseroles: 23 Easy Casserole Recipes to Try, which will help you make a hassle-free casserole.

The best part of these 5 ingredient casseroles is that they use ingredients that can be easily be kept on hand. If you have a package of tortellini or a tube of crescent rolls, then you're only a few ingredients away from making one of these 5 ingredient meals. You can get a meal together in very little time when you use these recipes!

Making breakfast, dinner, or even dessert doesn't have to be diffciult when you have these recipes for five ingredient casseroles at your fingertips. Whether you want a delicious dish to serve for brunch, a hearty dinner, or a decadent dessert, you'll find something to try in this recipe collection. So, roll up your sleeves and try one of these simple recipes for almost any time of the day. 

If you love these 5 ingredient casserole recipes, be sure to subscribe to our newsletter for more quick recipes!

Bonus: Everyone will definitely rise and shine when they see this delicious recipe for the 4-Ingredient Sausage and Egg Casserole on the menu! This breakfast casserole recipe won't take long to prepare.
Table of Contents
5 Ingredient Breakfast Casserole Recipes
As the old saying goes, breakfast is the most important meal of the day! If you're looking for a great way to start your morning, then these quick breakfast casseroles need to be on your radar. As they have only a handful of ingredients, these recipes won't take long to prepare. While the casseroles bake in the oven, you can brew a pot of coffee and slice some fresh fruit to serve with your casserole. Everyone is sure to enjoy these 5 ingredient casseroles!
If you enjoyed the simplicity of these 5 ingredient recipes, then you'll like our collection of skillet recipes. Clean-up is a breeze with these One Pot Meals: 22 Skillet Recipes
Quick Easy Cheap Casseroles for Dinner
Getting dinner together can be a challenge, but with these 5 ingredient recipes by your side, meal prep will be a breeze! With simple ingredients like jarred pasta sauce, frozen chicken tenders, and crescent rolls, you can easily make a delicious dinner. Plus, the ingredients in these easy 5 ingredient casseroles are simple enough to keep on hand in your pantry or freezer. That way, you can easily make these casseroles when you need a tasty meal in a hurry. Busy weeknights are no match for these easy casserole recipes!
If you really want to make dinner easier to prepare, then making casseroles in advance is one technique to learn! You'll discover the best ways to freeze casseroles with our guide on  How to Freeze a Casserole for Later
5 Ingredient Recipes for Dessert
When a dessert craving hits, there's nothing worse than checking your pantry only to find that you don't have the necessary ingredients. These 5 ingredient desserts make it easy to indulge a craving or impress last-minute guests. These simple dessert recipes use such ingredients as cake mix, Jello, pie filling, and even a jar of jam. No matter the craving or occasion, these easy desserts are sure to hit the spot! They are also easy to make and won't take long to create. You'll want to keep these 5 ingredient casseroles for dessert in mind for any impromptu visits from friends and family, too.
What is your favorite 5 ingredient casserole recipe?
Let us know in the comments below!
Your Recently Viewed Recipes