Chicken Biscuit Casserole Recipes: 14 Easy Chicken Casseroles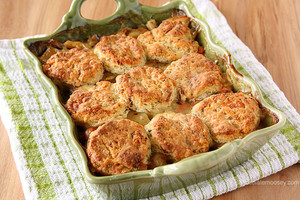 When you are craving a comforting and filling chicken casserole, why not make a delicious chicken biscuit casserole? This collection of Chicken Biscuit Casserole Recipes: 14 Easy Chicken Casseroles includes a wide variety of flavorful chicken casserole recipes, all of which feature fluffy biscuits in one form or another. Whether you choose to make a traditional Southern recipe for chicken and biscuits, or a version of chicken pot pie that is topped with biscuits, you are sure to enjoy at least one of this chicken biscuit casserole recipes.
Chicken Biscuit Casserole Recipes:
14 Easy Chicken Casseroles
Table of Contents
Southern Chicken and Biscuits Recipes
Chicken and biscuits is a quintessentially Southern dish, so it only makes sense to whip up one of these Southern chicken biscuits casseroles for dinner. These savory chicken casserole recipes feature a creamy chicken filling that is then topped with fluffy biscuits. Some of these recipes feature homemade drop biscuits while others make use of refrigerated biscuits. Each of these chicken and biscuits recipes will remind you of a savory version of a cobbler.
---
---
Chicken Pot Pie Recipes with Biscuits
The next time you want to make chicken pot pie, try one of these recipes for chicken pot pie with biscuits instead. Traditional chicken pot pie recipes can take a lot of work if they are topped with homemade pastry dough, but these recipes make use of simple biscuits instead. No one will mind that you took a shortcut with these easy chicken pot pie recipes.
---
---
More Chicken Biscuit Casserole Recipes
Here you will find flavorful and easy chicken bake recipes that all make use of biscuits in some way. Whether it is a bubble-up casserole recipe or an Italian casserole recipe featuring biscuits, these chicken biscuit casserole recipes can't be beat.
Your Recently Viewed Recipes