Tuna Noodle Casserole for Two
This recipe has all the flavor of a classic tuna noodle casserole without all the leftovers.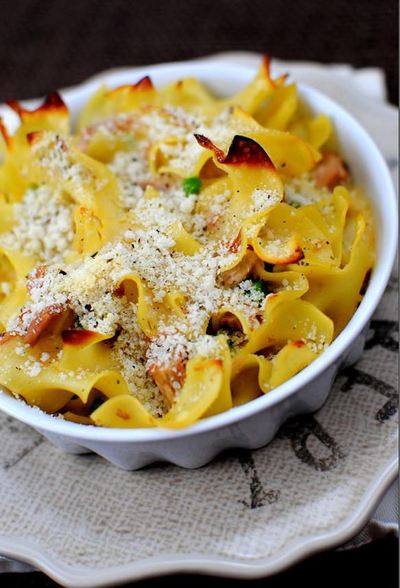 Tuna Noodle Casserole for Two
Do you love tuna casserole recipes but don't have a lot of mouths to feed? Explore casseroles for two with this recipe for Tuna Noodle Casserole for Two. It's tasty and you won't be stuck with a ton of leftovers!

Tuna noodle casserole is a comforting favorite that everyone loves, but sometimes you only need enough to feed yourself and maybe one other person. This casserole recipe for two allows you to have a creamy, filling helping of tuna casserole for dinner without having to figure out what to do with a whole casserole dish of food when you're done.

This simple casserole recipe is made from scratch, so you won't find any canned soup in this recipe. The next time you're craving something homemade and cozy, think of this recipe.
Serves2

About Midwestern Cuisine
Tuna casseroles are part of a uniquely American food tradition prominently found in the Midwest. Midwestern cuisine draws from the traditions of immigrants from Central, Northern, and Eastern Europe, and blends those traditions with local crops as well as store-bought goods. Midwestern food often seems like it's several ingredients randomly thrown together — a can of this, a can of that — but there are some unifying themes found throughout the twelve-state region.

The first theme is that the food is meant to be shared. Think of church suppers and potlucks where you'll find casseroles, chili, and funeral foods. The second theme is the sparse amount of seasonings. Bold flavors don't characterize this food in the same way that they do in the Southwest. Instead, traditional Midwest food uses lighter seasonings like sage and parsley. Third, comfort food reigns supreme. Immigrants brought pieces of their culinary histories with them, using food as a way to connect with their homes. This feeling of nostalgia is found in almost all Midwest dishes, from pork tenderloin sandwiches to American-style goulash.

Sources:
"Cuisine of the Midwest" by Maps of the World
"Midwestern Food is the Most American Food" by Chicago magazine
Your Recently Viewed Recipes